Julius Caesar said "experience is the teacher of all things."
If Caesar was right, then Jack Young has certainly earned his title as Master Teacher.
His experience abounds:
Young is the Head of the Professional Actor Training Program at The University of Houston where he is a Professor of Acting and Movement (and the recipient of the University of Houston Alumni Association Distinguished Teaching Award). He is currently the Artistic Director of the Houston Shakespeare Festival. Prior to HSF, he served as Executive and Artistic Director for other successful theaters across the country, has worked with 10 different Shakespeare Festivals, is a Certified Teacher and Fight Director for the Society of American Fight Directors, has choreographed violence for over 100 productions, has Directed over 120 productions, and is a celebrated actor in his own right.
He is also happens to be the director of Titan Theatre Company's final production of the 2015/16 season, Julius Caesar.
With such a prolific professional resume, I was curious to talk to Jack Young about his personal thoughts on the theatre. He graciously obliged.
Check out his interview below!
Theatre is where I can blend my love of history, art, music, people, language, logistics and transformation.
Let's start at the beginning: what lead you to a life in the theatre?
Southern upbringing blended with Irish gift of the gab--family gatherings were telling family stories--add in, as a kid, listening to comedy recordings, creating "haunted houses" in neighborhood garages to scare the younger kids, being lousy at sports in a neighborhood full of All-Stars (made me work harder in movement classes), playing piano competitions and flute in the school band, and working in a high school drama group that raised $ for our shows by serving as the tech/production team for a ballet company--theatre is where I can blend my love of history, art, music, people, language, logistics and transformation
So - what was your first experience with Shakespeare?
The first I can remember is my mom dragging my siblings and I in to watch the Bill Ball TAMING OF THE SHREW that was broadcast on PBS--none of us had any interest in coming indoors to watch some dumb play, but then the language and the physicality grabbed us all--
I didn't get to perform any until way late into graduate training--I spent much of my early time doing new plays (apprentice at Actors Theatre of Louisville) but working with living playwrights gave me insights into the crafting of dialogue, character and structure. I figure BillyBard must have brought the same attention and drive to his work.
Since then you have worked at over 10 Shakespeare Festivals, and directed and acted in so many of his plays – what is it that still draws you to Shakespeare's work?
Good plays attract good artists--the actors, directors, designers, voice/text, movement coaches who are ready to take on the challenge of a Shakespeare are fun to work with. The fun of working in a variety of places and companies is discovering how the plays bloom in different soil.
As a director, artistic director, actor, fight director and teacher you wear many hats. Is it difficult to switch from one to another? Or do they inform each other?
They feed each other--all in the process of Sharing the Truth. As an artistic director, choosing the play is choosing which set of Big Truths the company is going to attempt to share. As an actor or a fight director or director, it's contributing a different part of shaping the Truth. As a teacher, I help hone my students' skills and challenge their courage to share Truths worth witnessing. The vantage point of each helps give me a more nuanced sense of what may be going on in any given moment in the process.
In regards to that -- the process of Sharing the Truth -- Why Julius Caesar? Why now?
An election year is always a good time to remind ourselves of the Power of Rhetoric to stir emotions and steer groups of people in ways that we might not if we took a moment to think on our own. Plenty of excitement about HOUSE OF CARDS- We live in Elizabethan times.
What is your preparation process like as a director approaching a play? What sources do you draw from? Has anything particularly informed your approach to Titan's production of Julius Caesar?
Hearing the text is just as important as reading it. As much as can be found in making sure I know what the characters mean when they speak, there is just as much in sensing the Onomatopoeic event that will fill the audience's ears when they hear it.
Going along with that is music--finding the pitch/volume/rhythm that is going to support and shape the play. As a physical performer, I watch a lot of dance, martial arts, and sports to find iconic shapes and gestures that can populate the work.
In this production of Julius Caesar, given that the actors play major characters and Citizens of Rome, a lot of work has gone in to create a heightened physicality and vocal work to make them into a Crowd, a Mob, and an Army.
Then there's loud and ever present Media Feed of the current electoral process. Every rehearsal there's a line in JULIUS CAESAR that could have been a headline in the paper.
You have worked with Titan Theatre Company before (Hamlet 2010). From your experience, how has the company changed in the past six years?
The rehearsal space has given the company a good Kitchen to create in. The company's rising profile has attracted Guest Artists with deep background and serious skills. What hasn't changed is the drive, the energy and the smarts of the company--those are core parts of TITAN.
Lenny Banovez, Laura Frye, and Michael Thatcher, who are all in the company of Julius Caesar, are all former students of yours. What is it like working professionally with actors you have helped to train and develop?
First off, there is an efficiency in working with people who share a common language. Adjustments and improvements can be implemented so much quicker. The shared history also means I can draw on the strengths I know they have. What's great now is that they've all matured in beautiful ways; they've worked with a great range of people since their training days, and are bringing even more experience and nuance to their work.
If you had one piece of advice for new actors approaching Shakespeare – what would it be?
See it. Hear it. Very few people sit down with a Mozart score and read it--you LISTEN to it. As much as this may upset the English teachers, BillyBard didn't write these plays to be read--he wrote them to be HEARD (Hamlet asks if the royals will HEAR his play--not see it). There is so much video out now--RSC, The National Theatre, film versions, youTube--see as many different versions as you can--none of them are perfect (well, with the possible exception of Adrian Lester's OTHELLO--it's mighty damn fine) but there's much to be gained in seeing the different ways different productions Share the Truth.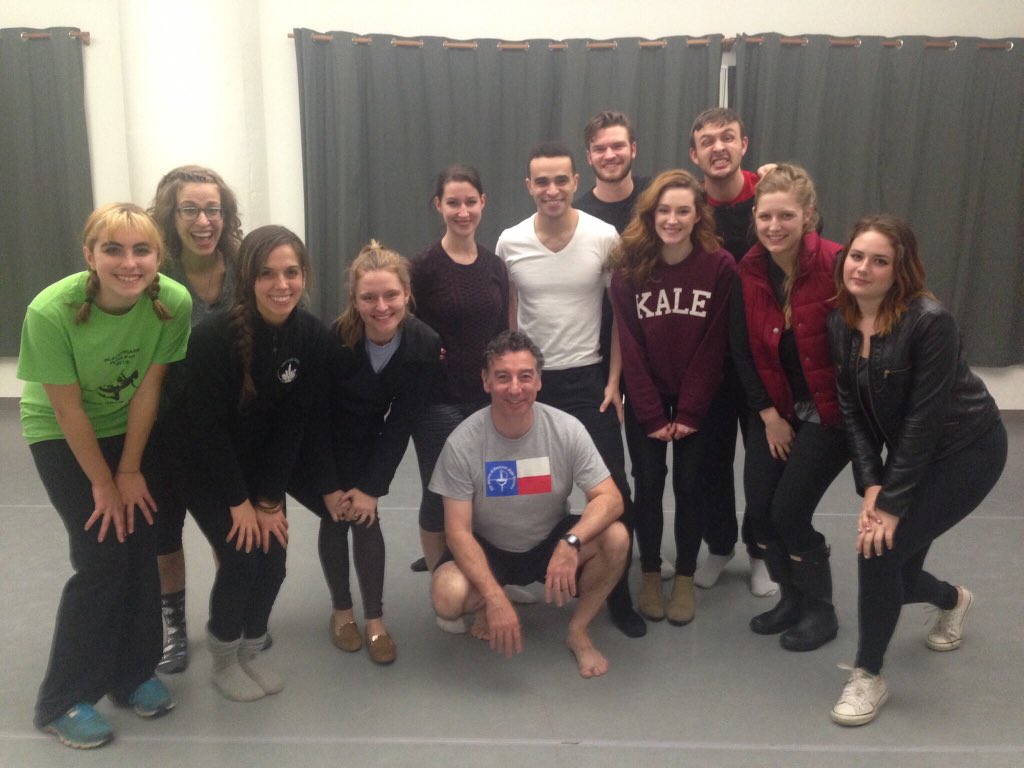 See it. Hear it. ... there's much to be gained in seeing the different ways different productions Share the Truth.